The new proposal for year – a direct trip to Uzbekistan from USA / NYC. Now you can visit the most beautiful and magical cities of Uzbekistan such as Samarkand, Bukhara and Khiva. The tour can be done either with a direct flight New York – Tashkent or with a flight with a stopover in Istanbul. Travelling in Uzbekistan you can discover hospitaly & loveliness of uzbek poeple, the Silk Road of Central Asia, ninth desert of world – Kizilkum, legendary cities – Samarkand, Bukhara & Khiva.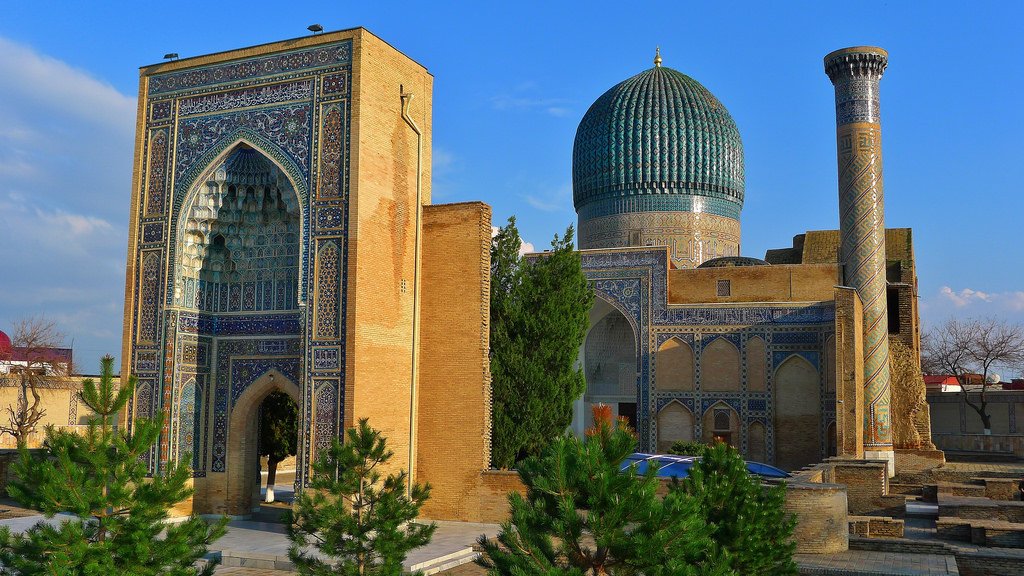 Tours to Uzbekistan from USA – from New York
Tour itinerary: New York – Tashkent – Urgench – Khiva – Bukhara – Shakhrisabz – Samarkand – Tashkent – New York
1 DAY: TASHKENT (excursion )
Early morning arrival in Tashkent. Meet guide of your group, transfer to hotel. Early check in.
Breakfast. Start of trip in Uzbekistan from USA. Transfer to the north-east part of Tashkent, that's ancient part called as 'old city'. Dinner and overnight in the hotel.
2 DAY: TASHKENT – KHIVA (flight+excursion)
After breakfast transfer to airport & departure for Urgench with local flight HY-1057 (18:40 – 20:20). Arrival in Urgench & transfer to Khiva (35 km). Start full day city tour of Khiva – one of the most fascinating cities in the region. Its facilities are in Arabic style with color ranging from light blue to turquoise; there remained virtually intact since the sixteenth century.
3 DAY: KHIVA – BUKHARA (480 km)
Breakfast. Transfer to Bukhara (480 km). Our route goes crossing the Amu-Darya River and the Red Desert(Kyzilkum). In Uzbekistan there are two great rivers: the Amu-Darya (in classical Greek known as the Oxus) and the Syr-Darya (known asJaxartes or Yaxartes by the Greeks). Arrival in Bukhara and hotel accommodation. Free time. Dinner at local restaurant & overnight in the hotel.
4 DAY: BUKHARA (excursion)
Breakfast. Excursion in the historic center of Bukhara – functioned as one of the main centers of Persian civilization since its early days in the VI century BC – Turkish speakers gradually moved in from the VI century AD. The city's architectural and archaeological sites form one of the pillars of Central Asian history and art. The region of Bukhara long formed a part of the Persian Empire.
5 DAY: BUKHARA – SHAKHRISABZ – SAMARKAND (270 km + excursion + 140 km)
Breakfast, transfer to Shakhrisabz (270 km). It means city of green or verdant city. It is a city in southern Uzbekistan located in the southern part of Samarkand. It was a major city of Central Asia, it is primarily known today as the birthplace of 14th-century Turk-Mongol conqueror Timur. Transfer to Samarkand (140 km). Dinner at local restaurant & overnight in the hotel.
6 DAY: SAMARKAND (excursion)
Breakfast. Excursion to the heart of Uzbekistan – Samarkand is one of the oldest inhabited cities in Central Asia, prospering from its location on the Silk Road between China and the Mediterranean. At times Samarkand has been one of the greatest cities of Central Asia. There is evidence of human activity in the area of the city from the late Paleolithic era, though there is no direct evidence of when exactly Samarkand was founded, some theories say that it was founded between the VIII and VII centuries BC.
7 DAY: SAMARKAND – TASHKENT (excursion + 280 km)
Breakfast. 'Check out' from the hotel. Excursion in Museum Afrosiyob. It was an ancient site of northern Samarkand, that was occupied from c 500 BC to 1220 AD. Today, it is a hilly grass mound located near the Bibi Khanaum Mosque. The Tomb of Daniel is the traditional burial place of the biblical prophet Daniel. Transfer to Tashkent. Dinner at local restaurant & overnight in the hotel.
8 DAY: TASHKENT – HOME (10 km + flight)
Early morning, transfer from hotel to airport & departure to home.
The Tour to Uzbekistan from USA
Accommodation in the hotels on TWIN/DBL sharing rooms;
EARLY CHECK IN at 05:00;
VISA SUPPORT Letter (Letter of invitation) for Uzbek visa (if there is no Uzbek embassy in your country);
Full board meal plan (breakfasts, lunches and dinners);
A/C transfers (bus), all airport transfers as per the program;
Professional (English speaking) guide during tour;
Entrance tickets;
One single room with all inclusion as Free Of Charge (if over 14 pax in the group).
Best things of trip from NYC to Uzbekistan