9 days tour in Kyrgyzstan
9 days trip to Kyrgyzstan with your tour operator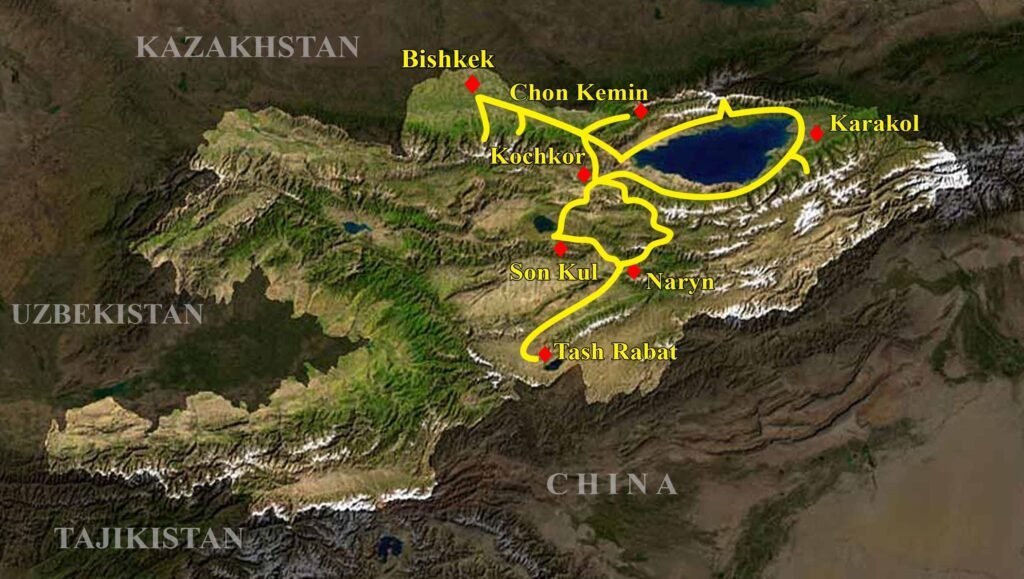 Detailed program of Travel to Kyrgyzstan
Day 1: Bishkek – Ala Archa – Bishkek
Your driver will pick you up at Manas International Airport and accompany you to the capital city of Kyrgyzstan, just a 30-minute drive from the airport. In the morning we will visit Ala Archa gorge. It is a Natural Park. At the Soviet Time only V.I.P. people had permission to go for a walk here. The Ala Archa gorge is on a spur of the Tien Shan mountain range. It is just 45 km from Bishkek. You can have a short hiking tour to see a panoramic view of the gorge. Afterwards we return to Bishkek. The second half of the day is dedicated to a guided tour of Bishkek. It includes visiting Pobeda Square (Victory Square), Duboviy Park (Oak Park), Central Ala-Too Square, Old Square, National Philharmonic, and many others places of interest. This overnight will be in a hotel.
Day 2: Bishkek – Burana – Chon Kemin
Today you will be transferred to Chon Kemin gorge. On route to the gorge you will visit Burana Tower (an 11th century minaret) and an open air museum of Balbals (stone warriors). After an interesting excursion and climbing on the top of the tower is transfer to Chon Kemin gorge. Here you will meet a nice family. In the afternoon we will have 3 hours of horse riding. Your route will go high in the mountains and you will even ride horses through a mountain forest. On the top you will see the panorama view of the gorge. The night will be in a guesthouse. 
Day 3: Chon Kemin – Issyk Kul lake – Grigorievskoye – Semenovskoye – Karakol
Today you will be transferred to the celestial Issyk Kul Lake, the second largest alpine lake in the world (1608 m above sea level). Its length is 180 km and it is 60 km wide. The lake is called "the pearl of Central Asia". On the way, we will take a short break to give you the opportunity to visit ancient stone inscriptions (dating back to 800 B.C.). These petroglyphs were made more than 2000 years ago by shamans. Then we will drive along Semenovskoe and Grigorievskoe gorge! These two picturesque gorges are connected at the end. It means you will start driving in at one gorge and will drive out through the other one! Then we continue our way along the northern shore of the lake to the town of Karakol. You will visit the Dungan mosque. One of its highlights is the fact that it was built in a Chinese style without using a single metal nail. The mosque will be followed by a visit to an old wooden Orthodox Church. Night is spent in a hotel.
Day 4: Karakol – Jeti Oguz – Issyk Kul southern shore – Kochkor
Today we will drive to Jeti Oguz gorge. It's famous for its red rocks formations that have a name Seven Bulls – Jeti Oguz. Also you will see there the Broken Heart Mountain. If you want it is possible to go on a top of a mountain (20 minutes) to see a panorama view of the gorge. Then we continue our trip, breaking in Bokonbaeva village, where we will meet a local eagle-hunter. He hunts hares and foxes with the help of eagles (a traditional way of nomadic hunting). Night is in a guesthouse in Kochkor. We will drive there along the southern shore of Issyk Kul Lake.
Day 5: Kochkor – Kichi Naryn – Naryn
After breakfast we will drive along high mountains to the town of Naryn through beautiful Kichi Naryn gorge. The high mountains, picturesque passes, and nomadic way of life make Kyrgyzstan an irresistible travel destination. Views of this mountain road are absolutely breathtaking. You will drive over mountain pass named Jalpak Bel at an elevation of more than 3000 meters. This day offers a great chance to experience the variety of mountains which make Kyrgyzstan so popular. On the route it will be possible to meet real nomadic families. Night will be in a hotel.
Day 6: Naryn – Tash Rabat
After breakfast you will be transferred to the Tash Rabat Caravanserai on the Great Silk Road (Stone Castle from the 14th century). The building is unique. Tash Rabat is located at the very heart of Tian Shan Mountains.  Tash Rabat was built of stone blocks inside a mountain at an elevation of 3200 m above sea level. In total there are 31 rooms in the mountain. The walls are 1 m thick. There are also underground prison cells formerly used to incarcerate thieves in ancient times. The night will be spent in yurts near Tash Rabat Caravanserai.
Day 7: Tash Rabat – Son Kul
After breakfast we start our drive to the second largest lake in Kyrgyzstan – Son Kul Lake. This lake is surrounded by mountains and it is the highest alpine lake in Kyrgyzstan, situated at an altitude of 3013 meters above sea level. Kyrgyz nomads started to come to this wonderful area with their families for rest and relaxation. Herders of the Naryn region come to the lake to use it as a pastureland. After our arrival, you will be free to explore and enjoy the virgin nature of the lake and its surroundings. Overnight is in nomadic collapsible dwellings – yurts. They are made of a wooden skeleton, covered with felt coverings.
Day 8: Son Kul – 33 parrot pass – Son Kul
Today you will drive to Teskey Torpok Pass (33 parrot pass). Teskey Torpok Pass (3133 m) is considered one of the most beautiful passes in Kyrgyzstan. From the top of the pass, you can see almost the entire road winding up to the pass.  It also affords spectacular views of the Naryn Valley and some stunning mountain ranges to the south. The ice-capped mountains, massive mountainside pine trees, and thick rolling fog create a surreal, heavenly atmosphere that will take your breath away. Here you will discover a small mountain waterfall of indescribable beauty. It is formed from the main river that flows out of the Son Kul lake. After spending some time there you will drive back to Son Kul Lake. After lunch you will have free time to enjoy surroundings of the yurt camp.
Day 9: Son Kul – Kalmak – Bishkek
In the morning you will be transferred back to Bishkek. The road will go along amazing gorge and you will drive today over Kalmak Ashu pass that is 3 225 meters high. In Kochkor village you will spend some time with a family that will show you the way our national felt carpets are produced. Also you will visit a small handicraft museum there. Afterwards you will be transferred to the capital of Kyrgyzstan – Bishkek city. Night is in a hotel.