Bibi Khanym mosque – Samarkand Monuments
Bibi-Khanum Mosque is one of the most important monuments in Samarkand. In the 15th century it was one of the largest and most magnificent mosques in the Islamic world. In the mid-20th century, only one grandiose ruin survived, but important parts of the mosque were restored during the Soviet period.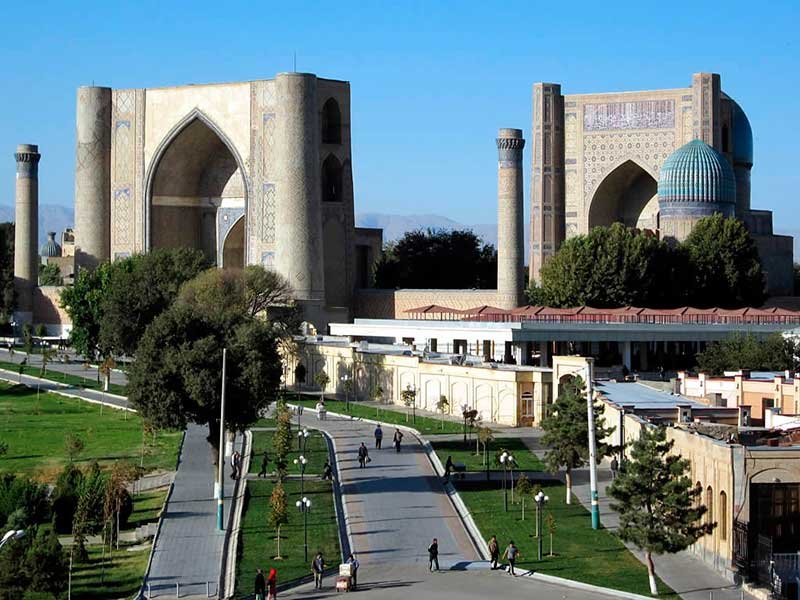 History of the Bibi Khanum mosque in Samarkand
After his Indian campaign in 1399, Timur (Tamerlane) decided to undertake the construction of a gigantic mosque in his new capital, Samarkand. When Timur returned from his military campaign in 1404, the mosque was nearly completed. However, Timur was not satisfied with the progress of the construction, and immediately made various changes, especially on the main dome.
From the start of construction, the structural integrity problems of the structure revealed themselves. Various reconstructions and reinforcements were undertaken to save the mosque. However, after a few years, the first bricks had begun to fall from the huge dome onto the mihrab. The scale of Timur's floors pushed the construction techniques of the time to the limit and the integrity of the building was not helped by the hasty nature of its construction.
The enormous size, richness of decoration of the mosque and madrasah, as well as other structures erected by order of Timur, were supposed to inspire mere mortals with faith in the power of Allah and his (Timur's) might.
Construction continued until November. Snow fell in November and work was suspended. In February 1405, Timur died, and the work was no longer resumed.
The composition of the building is traditional: a portal, minarets in the corners, a cuboid prism of the base, a drum, a dome. Here are colossal dimensions in everything: the span of the portal arch is 18 m with a height of the portal niche of 29.7 m, the diameter of the dome is 18 m and almost forty meters from the floor to its top.