Tashkent-Urgench-Khiva-Bukhara-Samarkand-Tashkent-Kokand-Rishtan-Margilan-Fergana-Osh-Bishkek-Burana-Issyk-Kul-Bishkek-Ala Archa-Bishkek-Chonkurchak-Bishkek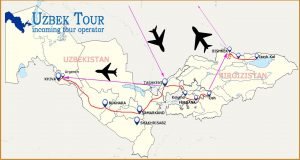 2 nights in Tashkent – Tashkent Palace 4****
1 nights in Khiva – Asia Khiva 3***
2 nights in Bukhara – Asia Bukhara 4****
2 nights in Samarkand – Hotel Diyora 4****
2 nights in Fergana – Club Hotel 777 3***
2 nights in Bishkek – Plaza hotel 4****
1 night on Issyk Kul lake – Karven 4****
1 night in Osh – "Green Yard" guesthouse
1 DAY: TASHKENT (excursion) 
Arrive in Tashkent. Transfer to the hotel. Start sightseeing in the capital of Uzbekistan, the biggest city in Central Asia.  Overnight at the hotel.
2 DAY: TASHKENT – URGENCH – KHIVA ( flight + 35 km + excursion)
Transfer to local airport in Tashkent. Morning flight to Urgench (1015 km, 1 h. 40 min).
Arrive in Urgench, transfer to the hotel in Khiva (30 min.). Later proceed for guided walking sightseeing tour. Spend a day in UNESCO World Heritage site Itchan-Kala Fortress.
3 DAY:   KHIVA – BUKHARA (480 km)
Breakfast. Transfer to Bukhara (480 km). Our route goes crossing the Amu-Darya River and the Red Desert (Kyzilkum). In Uzbekistan there are two great rivers: the Amu-Darya (in classical Greek known as the Oxus) and the Syr-Darya (known asJaxartes or Yaxartes by the Greeks).  Arrival in Bukhara and hotel accommodation. Free time. Dinner at local restaurant & overnight in the hotel.
4 DAY:   BUKHARA (excursion)
Breakfast. Excursion in the historic center of Bukhara – functioned as one of the main centers of Persian civilization since its early days in the VI century BC – Turkish speakers gradually moved in from the VI century AD. The city's architectural and archaeological sites form one of the pillars of Central Asian history and art. The region of Bukhara long formed a part of the Persian Empire. Dinner at local restaurant & overnight in the hotel.
5 DAY: BUKHARA –  SAMARKAND (260 km)
Continue sightseeing tour with a guide. Drive out of the city to Sitorai-Mokhikhosa summer residence of Bukhara's last emir, and visit Mausoleum of Bakhoutdin Naqshbandi. In the afternoon' depart to Samarkand (280 km, 4 h.). Stop on the way at Caravanserai Rabat Malik dating back to 11th century. Arrive in Samarkand late in the afternoon, check in to the hotel. Dinner at local restaurant & overnight in the hotel.
6 DAY:  SAMARKAND (
excursion)
Breakfast. Excursion to the heart of Uzbekistan – Samarkand is one of the oldest inhabited cities in Central Asia, prospering from its location on the Silk Road between China and the Mediterranean. At times Samarkand has been one of the greatest cities of Central Asia. There is evidence of human activity in the area of the city from the late Paleolithic era, though there is no direct evidence of when exactly Samarkand was founded, some theories say that it was founded between the VIII and VII centuries BC. Dinner at local restaurant & overnight in the hotel.
7 DAY: SAMARKAND – TASHKENT (excursion + 280 km)
Breakfast, free time till 12.00. Check-out from the hotel till noon. Continue sightseeing: visit Afrasiab Museum and the Tomb of Saint Daniel. Then drive to Konigil village to explore traditional way of making Samarkand paper from mulberry. Transfer to Tashkent. Dinner at local restaurant & overnight in the hotel.
8 DAY: TASHKENT – KOKAND – FERGANA (330 km + 
excursion)
Breakfast. Drive to Fergana Valley (320 km drive till Fergana city). The steep road which connects Fergana Valley with the rest of Uzbekistan runs via picturesque mountain pass Kamchik (2267 m. above the sea level). The first stop will be in the city of Kokand where you will visit the Khudoyar-Khan Palace, Jami Mosque, Kamol-Kazy Madrasah, and Norbut-biy Madrasah. Drive to Rishtan to the house of a ceramic master. Enjoy a pottery workshop and have a look at ceramic collection in a small museum. Continue driving to Fergana city (80 km). Check in to the hotel. Dinner at local restaurant & overnight in the hotel.
9 DAY: FERGANA – MARGILAN – FERGANA (40 km + 
excursion)
Breakfast. In the morning, drive from Fergana to Margilan and visit Said Akhmad-Khoja Madrasah. Today, madrasah is home to a number of craftsmen producing handmade carpets and silk. Have a walk on traditional market and continue to Yodgorlik Silk factory to see the production process of silk with traditional Ikat patterns. If it is Thursday or Sunday, visit Kumtepa Bazaar, the largest market in Fergana Valley. Return to Fergana. Visit Akhmad Al-Fergani Park in Fergana. Dinner at local restaurant & overnight in the hotel.
10 DAY: FERGANA – BORDER POINT – OSH (145 km + 
excursion)
Breakfast. Transfer to Uzbekistan-Kyrgyzstan border point. Crossing the border. Customs and passport control check on both sides. In Kyrgyzstan meet your local guide and driver, transfer to Osh. In Osh city you will go for a walk there and visit the most famous place – Suleiman Mountain. Suleiman Too (Solomon's Mountain) is situated in the center of the city and it is considered to be a pilgrimage place for local Muslims. According to the legend, biblical prophet Solomon (Suleiman in the Koran) was buried at the foot of it. After it we will visit an Asian bazar. Overnight in the hotel.
11 DAY: OSH – BISHKEK – BURANA – ISSYK KUL (260 km + 
excursion)
Breakfast. Transfer you to the airport to have a flight to Bishkek city. Your guide will pick you up at Manas International Airport and accompany you to the capital city of Kyrgyzstan, just a 30-minute drive from the airport. This entire day is dedicated to a guided tour of Bishkek. It includes visiting Pobeda Square (Victory Square), Duboviy Park (Oak Park), Central Ala-Too Square, the National Arts Museum, National Philharmonic, and many others places of interest. Afterwards you will drive to Issyk Kul lake. On route you will visit Burana Tower (an 11th century minaret) and an open air museum of Balbals (stone warriors). Overnight in the hotel.
12 DAY: ISSYK KUL – BISHKEK – ALA ARCHA – BISHKEK (260 km + 
excursion)
Breakfast. In the morning we will visit a place where you will see ancient pictures on stones! They are called petroglyphs. These petroglyphs were made more than 2 000 years ago by shamans. All these stones are still at the same place as they were at that time. You can see a panorama view of the Issyk Kul Lake from this place – people were thinking that it was the middle of the world. Afterwards we will drive to Bishkek city. Upon arrival we will visit Ala Archa gorge. It is a Natural Park. At the Soviet Time only V.I.P. people had permission to go for a walk here. You can have a short hiking tour to see a panoramic view of the gorge. Afterwards we return to Bishkek. Overnight in the hotel.
13 DAY: 
BISHKEK – CHONKURCHAK – BISHKEK (80 km + 
excursion)
Breakfast. Today you will be in 4X4 cars to have a tour at Chonkurchak gorge! You will see a lot of completely different mountain views and you will fall in love with Kyrgyzstan. Today we have an interesting route over mountain landscapes and you will have an exciting downhill on a traffic-free unpaved road. Following these roads along mountain gorges, weaving and switch-backing, up and down; this day provides the ideal opportunity to explore Kyrgyzstan. Overnight in the hotel.
14 DAY: 
BISHKEK – AIRPORT
In the morning is transfer to airport.